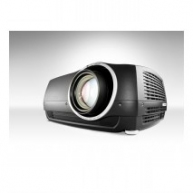 The FL32 series features solid state ReaLED technology for uncompromised performance offering a lifetime of no less than 100,000 hours for low total cost of ownership. Designed for mission critical applications such as 24/7 process control monitoring, and visualization and simulation, it is a high-performance projector.

ReaLED for low total cost of ownership

The ReaLED technology combines powerful LED lights - one per Red, Green, and Blue color - with our unique, patented optical design. ReaLED has a stable performance over its lifetime with consistent light output and accurate colors. Thanks to this unique technology, the FL32 does not require periodic lamp replacements and consumes minimal power.

Enhanced image quality

When paired with single-chip DLP technology, ReaLED replaces the rotating color wheel, and increases the active color cycle with 24x per frame of content. In this way, it eliminates sequential color and processing artefacts and reduces color smear and blur for fast-moving images. Using three independent LED sources, the FL32's colors are razor-sharp. Primary colors are extremely precise, and LED technology provides a much larger, and more accurate colur gamut than any other lighting technology. What's more, the FL32 features RealColor, making it possible to match any number of projectors, and ensure they all project the same primaries and grey scale.

Optical color processing and calibration

All color processing on the FL32 series is performed optically, and not electronically. That means that the actual light source is altered, and not the electronic source signal. Every FL32 projector features a number of pre-set optical color profiles, that offer accurate colors to any optical standard, for instance REC709 or SMPTE, without losing bit depth.

Precise Projection lenses

The FL32 series share its lens range of six different HD resolution Projection lenses with the F32 series projectors. These high-quality lenses have a proven track record in resolution, performance to provide stunning image performance.

Deep black levels and dynamic contrast

One of the unique features of the FL32 is the deep black levels the projector offers compared to standard lamp-based projectors. This is ideal for night-scene simulation, starfields, planetariums, and other types of content that rely on contrasting Elements from a velvety black background. What's more, the FL32 series can be configured and set up to dynamically adjusted levels to fit the histogram of the input, for an even higher contrast.

Easy installation

The FL32 series can be installed in any orientation without affecting output or brightness. The FL32 series can also be installed in portrait mode for that increased vertical resolution without special attention to the angle of projection. Because it does not use lamps that need to warm up and cool down, the FL32 series can be switched on and off in a matter of seconds.

Security and network manageable

Fully networkable, the vital projector settings and features can be controlled via the built-in web page, for remote asset management. The optional ProNet.Manager software can be used to manage, monitor, and control an unlimited number of projectors in a single site or across multiple sites. The ProNet.Installer version also handles color management, matching and performance over time.
Barco
Barco, a global technology company, designs and develops visualization solutions for a variety of selected professional markets: medical imaging, media & entertainment, infrastructure & utilities, traffic & transportation, defense & security, education & training and corporate AV. In these markets Barco offers user-friendly imaging products that optimize productivity and business efficiency. Its innovative hard- and software solutions integrate all aspects of the imaging chain, from image acquisition and processing to image display and management. Barco has its own facilities for Sales & Marketing, Customer Support, R&D and Manufacturing in Europe, America and Asia-Pacific. The company (NYSE, Euronext Brussels: BAR) is active in more than 90 countries and employs 3,500 staff worldwide. In 2008 Barco posted sales of 742 million euro.
Used Video Projectors
Video projectors such as a digital video projector or an LCD projector are an alternative to regular video screens in that they project images directly onto a screen, rather than projecting the video from behind as a television or monitor does. Video projectors use a lens system and project an extremely bright beam of light onto a screen. Modern video projectors such as a 3 chip DLP projector have are extremely intricate and able to correct inconsistencies in the image such as blurriness and curvature. Video projectors are commonly used in concerts and theatres, and they have many other applications in educational and business settings. They can also be used as part of a home theater system. There are a vast range of different video projectors available. The old CRT projectors are surprisingly still quite widely used, as they are able to project a very large image size, although the bulkiness of the cabinet is not so popular. For professional use in theatres and concerts, the DLP projector is one of the preferred models. DLP video projectors use 1, 2 or 3 Digital Micromirror Devices, called DMDs, which are essentially microfabricated light valves. The 1 chip DLP projector and the 2 chip DLP projector have been known to experience a problem however '?? viewers can sometimes perceive a '??rainbow'?Ě on the projection screen, and so the 3 chip DLP projector is more popular, as this is able to display each primary color in a simultaneous fashion, so the problem doesn'??t occur. The LCD flat panel model is perhaps one of the most popular video projectors for home and business use, as it is both affordable and simple to use. Other video projectors include the LCoS projector, LED projectors, Laser Diode projectors and hybrid LED/Laser Diode projectors.