Used Line Arrays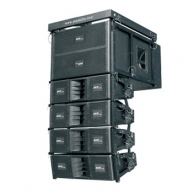 Find used audio, used lighting, used video, used staging and used power distribution for the event, church and production industries. Solaris is the worlds premiere distributor of theater and concert equipment and is the only distributor that specializes in finding the best maintained equipment for our clients.
Used Line Arrays for Theater, Concert Touring & Churches
Line array speakers make up a loudspeaker system to create a sound source that produces an evenly distributed sound output. The driver of each line array element is close enough to the driver of the next element to create constructive interference. ...
Line array subs are essentially a long line segment of numerous smaller speakers attached together, designed to simulate a much larger speaker. Line array sub woofers have become the speaker of choice for both large concert venues and outdoor events,...